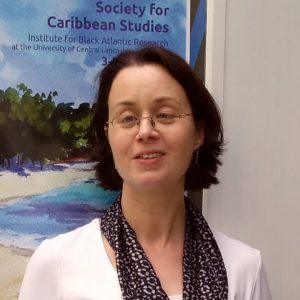 I studied English and American Studies, Art History, and History in Germany and the USA. In 2007, I received my Ph.D. from the University of Münster. I obtained my postdoctoral degree (Habilitation) from Bielefeld University in 2016. Since 2007, I have worked regularly as a researcher, lecturer, and visiting professor in American Studies in Bielefeld and Wuppertal.
Since September 2019, I have been a Marie Curie Research Fellow at the Institute for Black Atlantic Research (IBAR), University of Central Lancashire (UCLan) in the UK. My research interests include the genres of autobiography, travel writing, and drama. I also work in Ethnic, Gender, and Science Studies and on popular culture. Browse this website for more information about my work. I also teach modules on American literature and culture.
For more information about me, see my CV: CV ASTRID HAAS
UPCOMING CONFERENCE
Here is the call for papers for my upcoming conference:
Black Mobilities in the Atlantic World
Institute for Black Atlantic Research,
University of Central Lancashire, UK.
13-14 January 2022 (Preston campus and online)
You can find the Call for Papers here: CONFERENCE PAGE
or download it here: BLACK MOBILITIES CFP
NEW BOOK
My new monograph is out now:
Lone Star Vistas: Travel Writing on Texas, 1821-1861
Astrid Haas
University of Texas Press, 202
1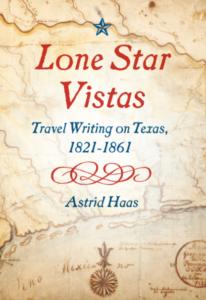 Every place is a product of the stories we tell about it—stories that do not merely describe but also shape geographic, social, and cultural spaces. Lone Star Vistas analyzes travelogues that created the idea of Texas. The book focuses on the forty-year period between Mexico's independence from Spain (1821) and the beginning of the US Civil War.
Here, Astrid Haas explores accounts by Anglo-American, Mexican, and German authors – members of the region's three major settler populations – who recorded their journeys through Texas. They were missionaries, scientists, journalists, emigrants, emigration agents, and military officers, and officers' wives. They all contributed to the public image of Texas and to debates about the future of the region during a time of political and social transformation.
Drawing on sources and scholarship in English, Spanish, and German, Lone Star Vistas is the first comparative study of transnational travel writing on Texas. Astrid Haas illuminates continuities and differences across the global encounter with Texas. Her book also highlights how the individual backgrounds of the writers affected their views on nature, settlement, military engagement, indigenous resistance, African American slavery, and Christian mission.
Purchase Options
You can purchase the book from these sites:
Americas / Caribbean: University of Texas Press. Click here: UTP WEBSITE
Europe / Middle East / Africa / Asia Pacific: Combined Academic Publishers. Click here: CAP WEBSITE
CAP offers a 30% discount with the discount code CSV21LSV.
.