Here is a summary of my research activities.
RESEARCH INTERESTS
My research focuses on North American and Inter-American Literature and Culture. I am particularly interested in the following research areas.
---
CURRENT RESEARCH

Article Series & Monograph:
Black Inter-American Mobility and Autobiography in the Age of Revolutions (1760-1860).
Marie-Curie Research Grant, European Union. 2019-2021.
In my current interdisciplinary project, I explore the ways transnational autobiographies by black authors address different forms of black mobility in the Americas during the Age of Revolutions and its aftermath (1760-1860). During that time, different black-authored narrative text genres emerged in the region.
Among them are four major types of black autobiography: slave narratives, Indian captivity narratives, spiritual autobiographies, and memoirs-as-travelogues. In these, different forms of (im-)mobility played a defining role in shaping black identities and experiences. Drawing on the approaches of Inter-American Studies, Black Atlantic Studies, Mobility, and Autobiography Studies, my project closes a gap in the scholarship of the Americas and the Atlantic World.
For more information, check out my project website: BIMAAR
---
COMPLETED MAJOR PROJECTS

Postdoctoral Monograph (Habilitation):
Lone Star Vistas: Constructions of Texas in Nineteenth-Century
US American, Mexican, and German Travel Narratives, 1821-1861.
Postdoctoral Research Grant, German Research Foundation. 2011-2014.
Postdoctoral Fellowship, Bielefeld University, 2011.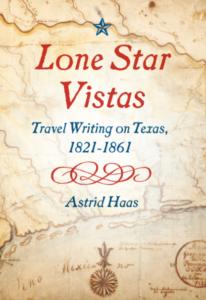 In my postdoctoral project, I analyzed narrative con­structions of Texas from 1821-1861 in selected works of American, Mexican, and German travel writing. My research addressed how these works addressed the region as a geographic, social, and cultural space. Through the lens of travel writing, I looked at the ways the region's major settler populations contributed to the public discourses on Texas during the period. Analyzing different types of journey narratives, my project also engaged theoretically with the genre of the travelogue.
The book appeared as Lone Star Vistas: Travel Writing on Texas, 1821-1861 in March 2021 with The University of Texas Press.
You find the table of contents here: TOC Lone Star Vistas
Ph.D. Dissertation:
Stages of Agency: The Contributions of American Drama to the AIDS Discourse.
Ph.D. Scholarship, State Government of North-Rhine-Westphalia. 2001-2003.
Publication Grant, German Academic Women's Union. 2010.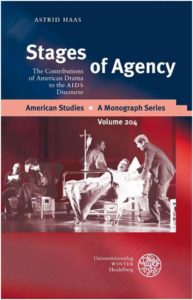 In my doctoral research, I explored the contributions American stage drama made to the dis­course on HIV/AIDS in the United States from 1985-1998. My study maps the diachronic development of this body of work in its increasing thematic, formal, and political heterogeneity. Here, I analyzed the strategies the plays employed to blend art with activism. In connecting these activities, the dramas established a counter-discourse to the mainstream public debate about AIDS. This enabled them to provide social agency to the affected populations.
For purchasing information, please click on the book cover image.
Here is the table of contents: TOC Stages of Agency
---
RESEARCH DISTINCTIONS
Grants
Award
---
MEMBERSHIPS
Institutional Bodies
Academic Associations