Here is a list of selected publications of mine. You can download a complete list here: List of Publications
COMPLETE VOLUMES
Monographs
Haas, Astrid. Lone Star Vistas: Travel Writing on Texas, 1821–1861. Austin, TX: University of Texas Press, March 2021. Lone-Star-Vistas. Go here for purchase options: HOME
Haas, Astrid. Stages of Agency: The Contributions of American Drama to the AIDS Dis­course. Heidelberg: Universitätsverlag Winter, 2011. Stages-of-Agency
Journal Issues
Haas, Astrid, ed. The Harlem Renaissance in an Inter-American Perspective. Special Issue, FIAR: Forum for Inter-American Research 7.2 (July 2014). FIAR vol. 7.2
Haas, Astrid, and María Herrera-Sobek, eds. Transfrontera: Transnational Perspectives on the U.S.–Mexi­co Borderlands. Special Issue, American Studies Journal 57 (May 2012). ASJ vol. 57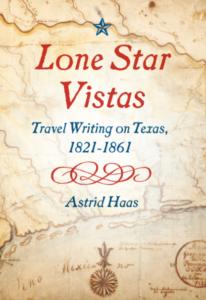 SELECTED ARTICLE PUBLICATIONS
Journal Articles
Haas, Astrid. "Native Bondage, Narrative Mobility: African American Accounts of Indigenous Captivity." Journal of American Studies. FirstView, 6 Oct. 2021. 1-25. Native-Bondage
Haas, Astrid. "Currents of Progress, Toy Store for Tourists: Nineteenth-Century Mexican Liberals View Niagara Falls." Journal of Transnational American Studies 10.2 (Winter 2019-20): 165-185. Currents-of-Progress
Haas, Astrid. "A Changing Game: Ethnicity, Gender, and Nation in the U.S. American Soccer Film." Comparative American Studies 12.4 (December 2014): 301-315. Changing-Game
Haas, Astrid. "Un continente 'de color': Langston Hughes y América Latina." The Harlem Renaissance in an Inter-American Perspective. Ed. Astrid Haas. FIAR: Forum for Inter-American Research 7.2 (July 2014): 36-54. Continente-de-Color
Book Chapters
UPCOMING: Haas, Astrid. "Nature, Natives, and Nativism in Gideon Lincecum's Travelogues of Texas." Traveling, Narrating, Comparing: Travel Narratives of the Americas from the 18th to the 20th Century. Ed. Julian Gärtner and Marius Littschwager. Göttingen: Van­denhoeck & Ruprecht / Bonn University Press, 2021.
Haas, Astrid. "Saint or Scoundrel? Representing Padre Martínez in Early (Auto)Biography and Fiction." Inter-American Perspectives in the 21st Century: Festschrift in Honor of Josef Raab. Ed. Olaf Kaltmeier and Wilfried Raussert. Trier: WVT; New Orleans: University of New Orleans Press, May 2021. 121-131. Inter-American-Perspectives
Haas, Astrid. "'This Long Disease, My Life:' Bodies of Contagion in Larry Kramer's The Normal Heart and The Destiny of Me." Embodying Contagion: The Viropolitics of Horror and Desire in Contemporary Discourse. Ed. Sandra Becker, Megen de Bruin-Molé, and Sara Polak. Cardiff: University of Wales Press, April 2021. 199-217. Embodying-Contagion
Haas, Astrid. "Travel Writing." The Routledge Handbook to Culture and Media of the Americas. Part I: Literature and Music. Ed. Wilfried Raussert, Giselle Anatol, and Joachim Michael. London: Routledge, 2020. 252-60. Culture-Media-Americas

Most of my shorter publications can be accessed via the following subject repository: THE STACKS
OTHER PUBLICATIONS AND PRESENTATIONS
Since 2001, I have published several reviews and translations as well as given more than 70 lectures and presentations on topics of North American, Inter-American, and Atlantic Studies in English, Spanish, and German at conferences and research institutions in Europe and the Americas.
---
---